United Nations Development Programme Annual Report 2020
Foreword
Development's Biggest Challenge
In 2020, a tiny virus humbled the human race and ignited a development emergency. Though its impacts were felt very differently, the COVID-19 pandemic was – and continues to be – a uniquely common experience for our generation, with no space for bystanders.
For the first time in 30 years, global human development declined. People everywhere struggled to stop the spread of the virus, save lives and respond to the unprecedented socio-economic trauma it created. The climate crisis deepened, despite a temporary dip in carbon emissions as the world hit the pause button. And as silent streets gave way to protests, inequality, racism and discrimination were laid bare as weapons of oppression that must be abandoned once and for all. It was in the eye of this perfect storm that the Decade of Action for the Sustainable Development Goals began.
2020 was more than a year of tragedy. It was also the moment when people everywhere demonstrated what is possible when humanity strives to be the best version of itself, even in the face of complexity and deep uncertainty. And in the pages that follow, I invite you to explore what I saw in 2020: a UNDP, working hard as part of the UN family, to be the very best version of itself.
This UNDP Annual Report takes a look at the results we achieved with countries and communities through 12 intense months. It considers the role we played as the technical lead of the UN's socio-economic response to the COVID-19 crisis, providing in-country analysis to help 144 countries better understand what action to take, deploying nearly US$1 billion to over 170 countries and territories, helping government and health systems to function, protecting jobs and livelihoods and rapidly expanding social protection.
It takes a look at how we played this role, pushing the boundaries of how UNDP thinks, delivers, invests and manages. It illustrates how #NextGenUNDP institutional and financial investments – such as the People for 2030 strategy, the UNDP Digital Strategy, the Global Policy Network, the Accelerator Labs Network and the creation of the Crisis Bureau – made it possible to offer a more coherent, rapid response.
The report features UNDP's global ideas and research on building forward better, which we tabled in 2020 to lift the ambition of global policy responses. These ideas range from introducing a temporary basic income for all people living in poverty to launching a new, planetary pressures-adjusted Human Development Index – part of UNDP's 30th anniversary look at The Next Frontier: Human Development and the Anthropocene.
These pages also capture how, throughout 2020, UNDP held the thread between the micro and the macro, addressing urgent local needs and advancing global systemic change: clearing over 400 football fields-worth of land of explosives in war-hit Yemen to enable humanitarian aid to get to those in most need, for example, while expanding the Climate Promise – the world's largest offer on enhancing Nationally Determined Contributions – to 115 countries.
Behind the results achieved are the day-to-day stories and determination of the millions of people with whom UNDP works. People like 25-year-old Khowla in Somalia, who runs an Alternative Dispute Resolution Centre and mediates community disagreements on everything from land theft to domestic violence. Or 13-year-old Wajalad from Iraq, who attends a repaired school that was shattered by war and dreams of being a doctor like his father. And Juana from Peru, who raises her voice in a male-dominated mining sector to call for healthier, more sustainable gold mining.
Their stories intertwined with those of our UNDP teams in a very personal way in 2020. During what was a difficult year for nearly everyone, one in which our colleagues lost friends and family members, people were separated, schools closed and lives upended, our teams proved something remarkable: that the United Nations stays and serves when it matters most.
Finding a way forward from COVID-19 will be the journey of our generation. And it starts with a choice: to make the pandemic the tipping point that leads to transformation for people and planet – or not. At UNDP (and at the UN), we have made our choice. I am convinced that if we commit to listening to and working with the people closest to the big issues of our day – from the climate crisis to inequality and conflict – then we will find a way forward together.
Thank you for taking a look at our work, which was made possible by the support, generosity and investment of our many partners. I encourage you to read on.
Achim Steiner Administrator United Nations Development Programme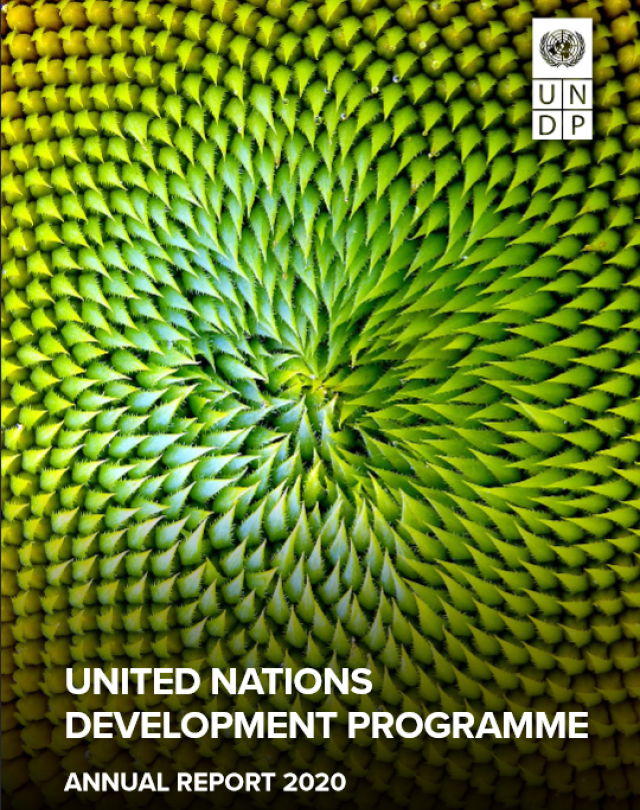 Goals we are supporting through this initiative