Press Release
Knowledge-based and Creative Companies participate in the National Award on Innovative Solutions for Children and Adolescents Challenges during COVID-19
26 August 2020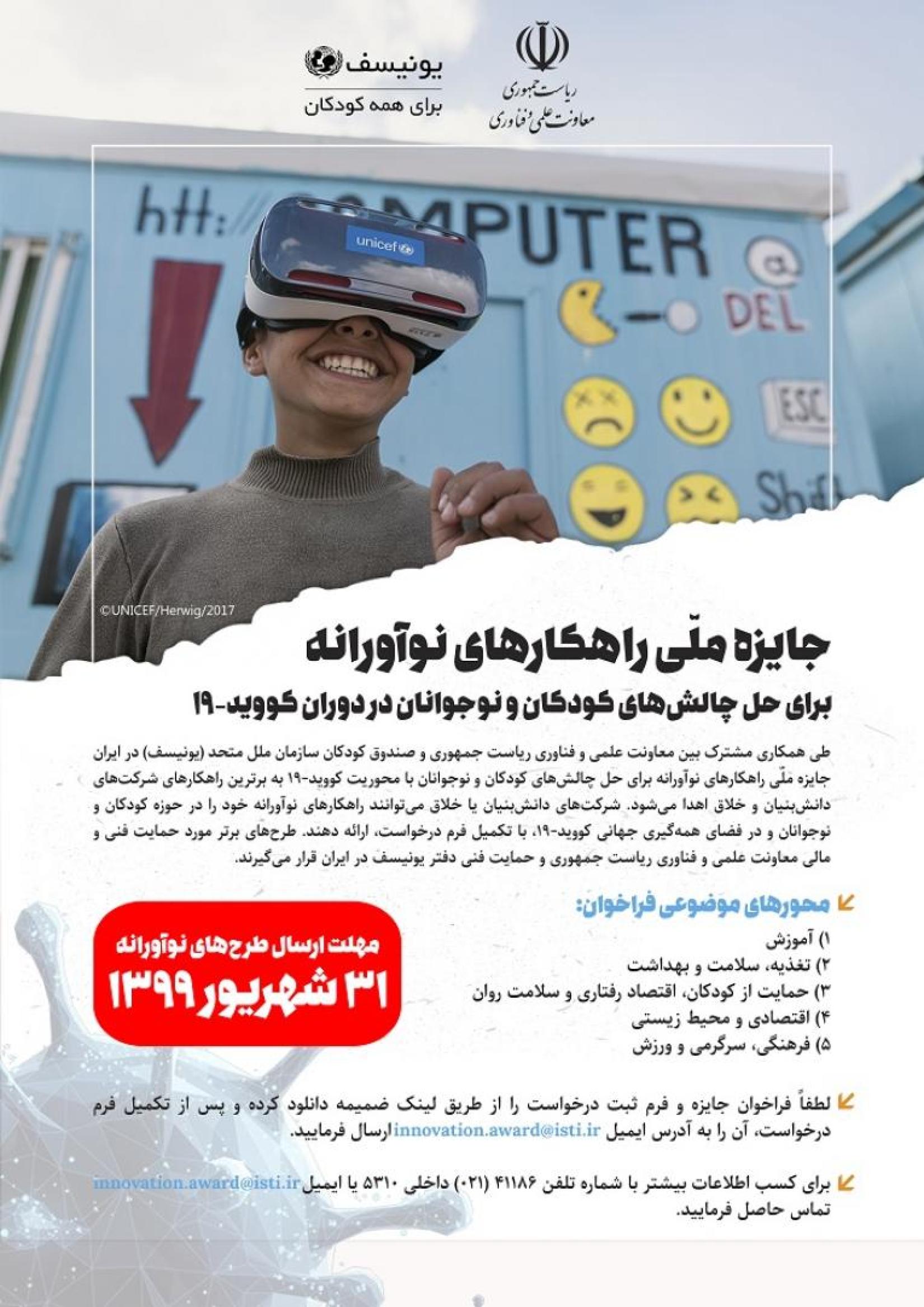 The National Award on Innovative Solutions for Challenges Faced by Children and Adolescents during COVID-19 is a joint initiative by the Vice Presidency for Science and Technology and UNICEF Iran Office, designed to promote the culture of innovations for children in Iran.
The programme aims at developing solutions in Education, Nutrition, Hygiene, Physical and Mental Health, Protection, Economy and Environment, Culture, and Entertainment and Sports in light of the challenges accentuated by the COVID-19 pandemic. The solutions may include accessible and inclusive e-learning platforms, digital health systems, protecting children against cyberbullying, skill building solutions for adolescents, innovative nudges, frugal and social innovations among other solutions using basic and emerging technologies.
The objective is to facilitate and strengthen synergies and opportunities in the technology and innovation ecosystem of the country. The Award, this year, will be dedicated to the practical solutions that address challenges faced by children and adolescents with a focus on COVID-19 pandemic.
The Knowledge-based Companies and Creative Companies can submit their innovative solutions by 21 September 2020. Further information is provided in the call and the application form accessible at the end of this Press Release. Once assessed by a competent group of experts, best-in-class solutions will receive the awards at a date that will be publicly communicated. The best solutions will benefit from technical and financial support from the Vice Presidency for Science and Technology as well as from technical support from UNICEF Iran so that they can be applied and effectively support children in Iran.
Applicant companies can get more information by contacting telephone No. (+98-021) 41186, extension 5310 or innovation.award@isti.ir
Knowledge-based and Creative Companies participate in the National Award on Innovative Solutions for Children and Adolescents Challenges during COVID-19
UN entities involved in this initiative
UNICEF
United Nations Children's Fund