Story
UN facilitates Iran's national vaccination plan – Resident Coordinator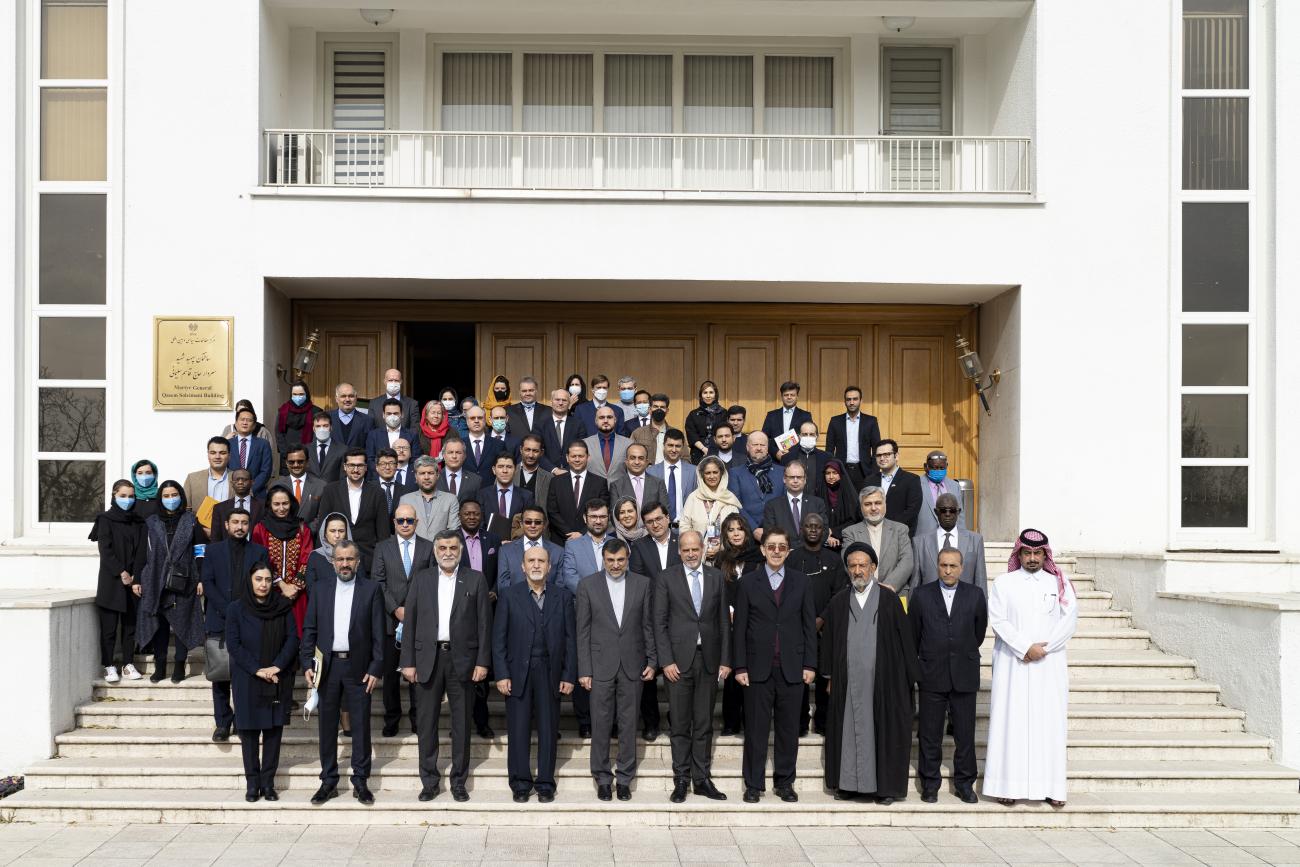 United Nations Resident Coordinator Stefan Priesner says the UN has helped facilitate the national vaccination plan in the Islamic Republic of Iran.
"I am proud of the UN agencies accelerating its support – to date 15 million vaccines have landed in Tehran together with other medical supplies and much needed protection equipment through UN facilitation", Priesner added.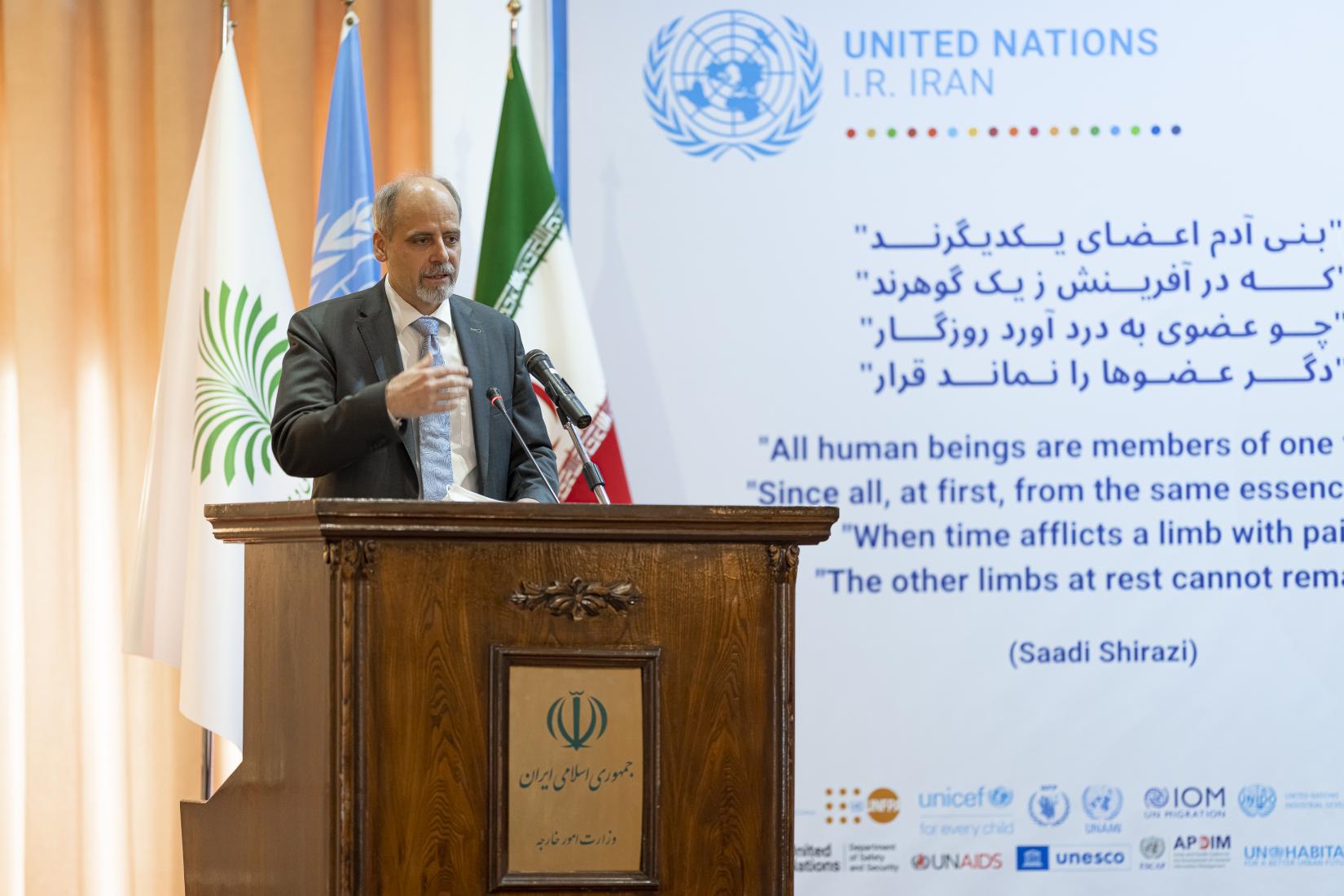 Addressing a ceremony marking the 76th Anniversary of the United Nations at Institute for Political and International Studies (IPIS) on 1 December 2021, the Mr. Priesner charted the good cooperation with Government for now and the next five years and also stressed that the partnership goes back a long way when in 1950 the UN opened its first office.
"Today an impressive number of agencies - 18 – are testimony of our large scale cooperation," he said.
Referring to Iran's contributions to development and humanitarian sphere, he said hosting several million refugees and migrants as well as playing a significant role in stemming the flow of illicit drugs from Afghanistan to the world are just two examples.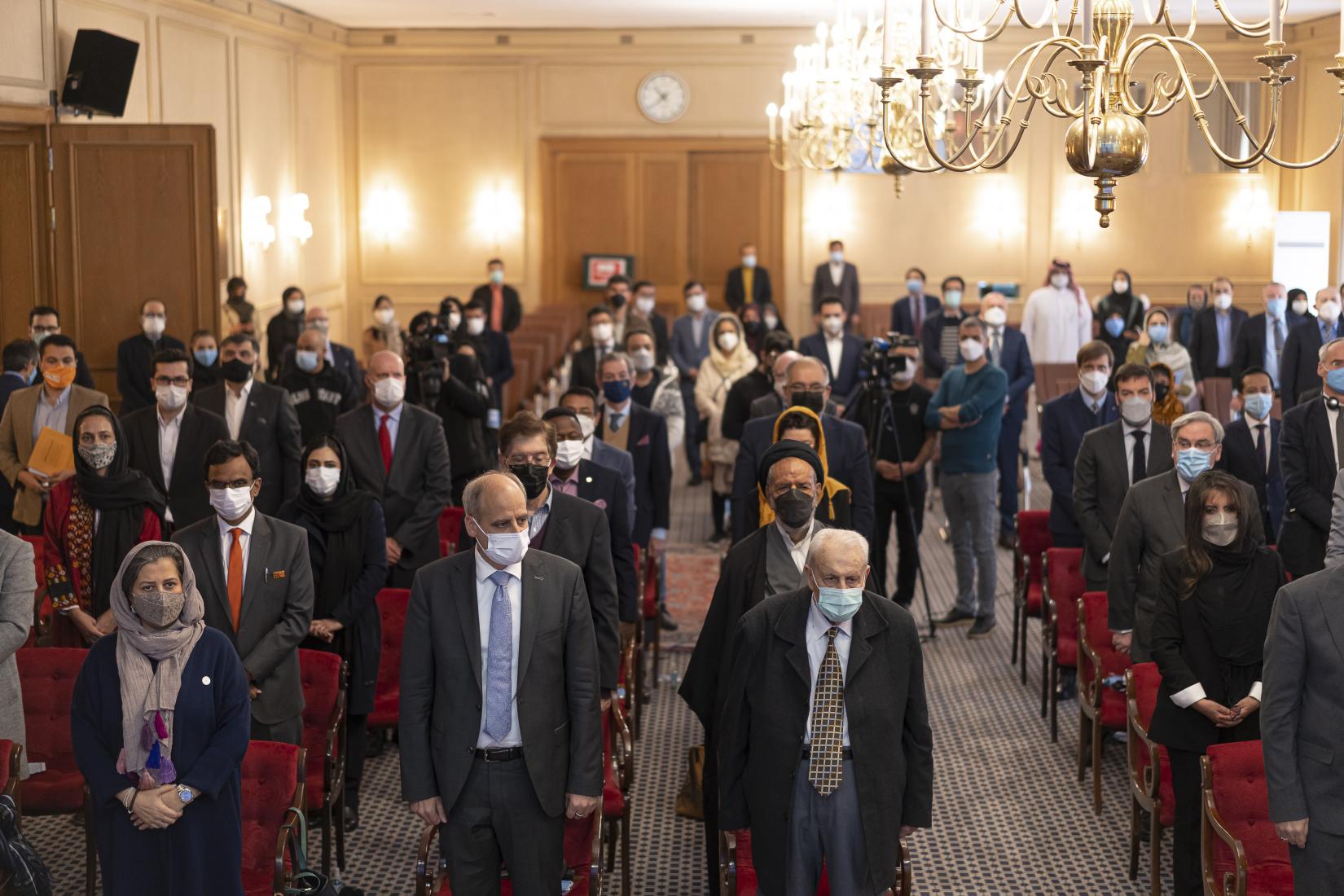 A large number of foreign diplomats stationed in Tehran as well as government officials, NGO members and journalists attended the ceremony.
Deputy Foreign Minister and President of IPIS Dr. Hassan Sheykh al-Islami in his address said some 76 years ago the United Nations was created after a devastating war with the objectives of safeguarding international peace and security, developing friendly relations among nations and helping member states to solve international economic, social and cultural problems.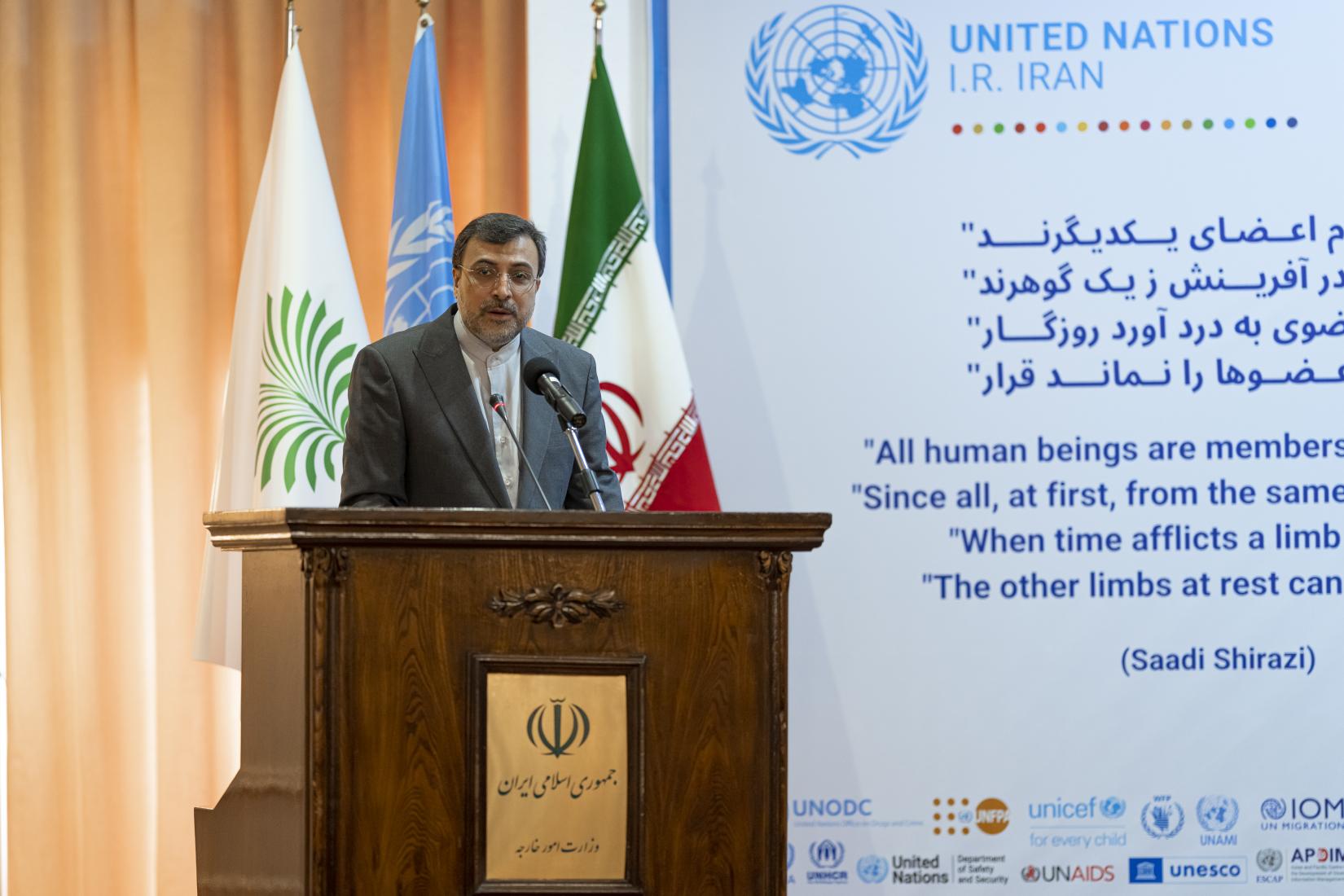 He said that the UN Day is the best framework for reminding us of the important role of the Organization in supporting the member states' efforts for fulfilling the objectives of the UN Charter. The Deputy Foreign Minister emphasized that the United Nations as the most important manifestation of multilateralism, must pave the needed ways of all countries for solving their problems based on equal social, economic and cultural rights.
The ceremony continued by screening a video on UN achievements in Iran.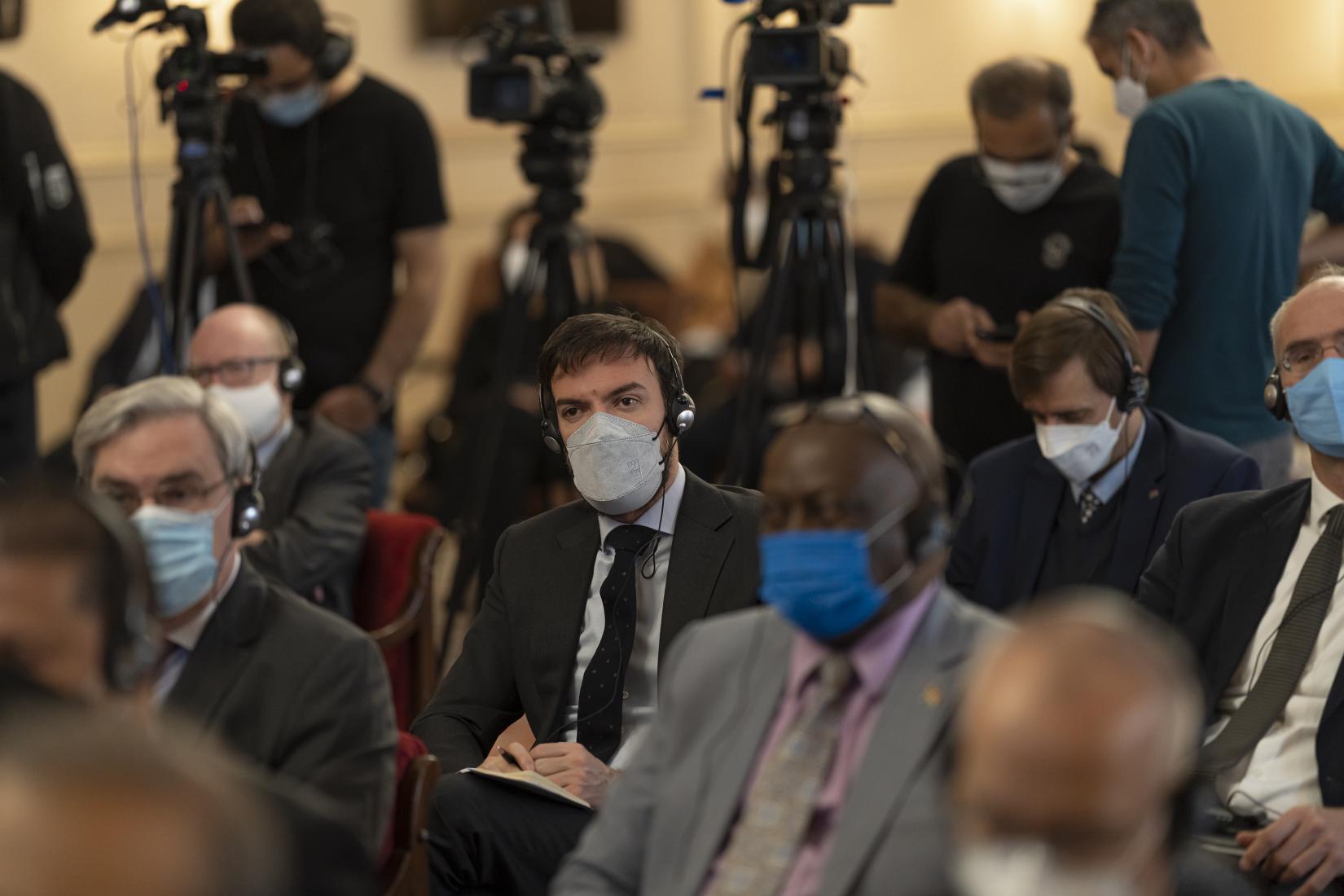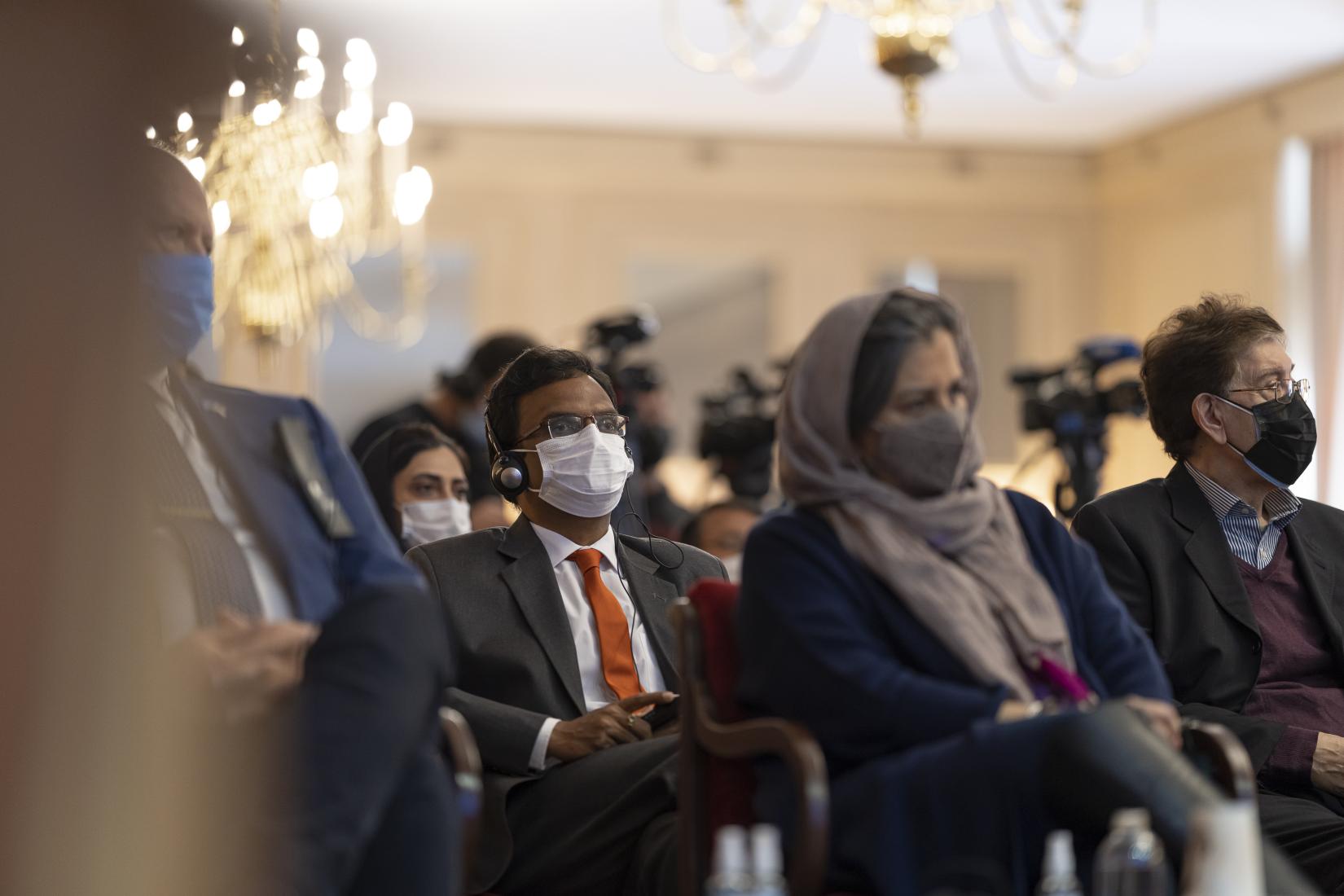 Then, UN World Food Programme (WFP) Representative Ms. Negar Gerami in her remarks said that the UN in Iran supported the government's significant efforts to fight drug related crimes such as trafficking and abuse - addressing border control and investigation through training and improving prevention and treatment methods.
She said the UN has developed sustainable farming methods to avoid droughts and draining wetlands in Iran while promoting efficient water management and waste management, helping to reduce CO2 emissions.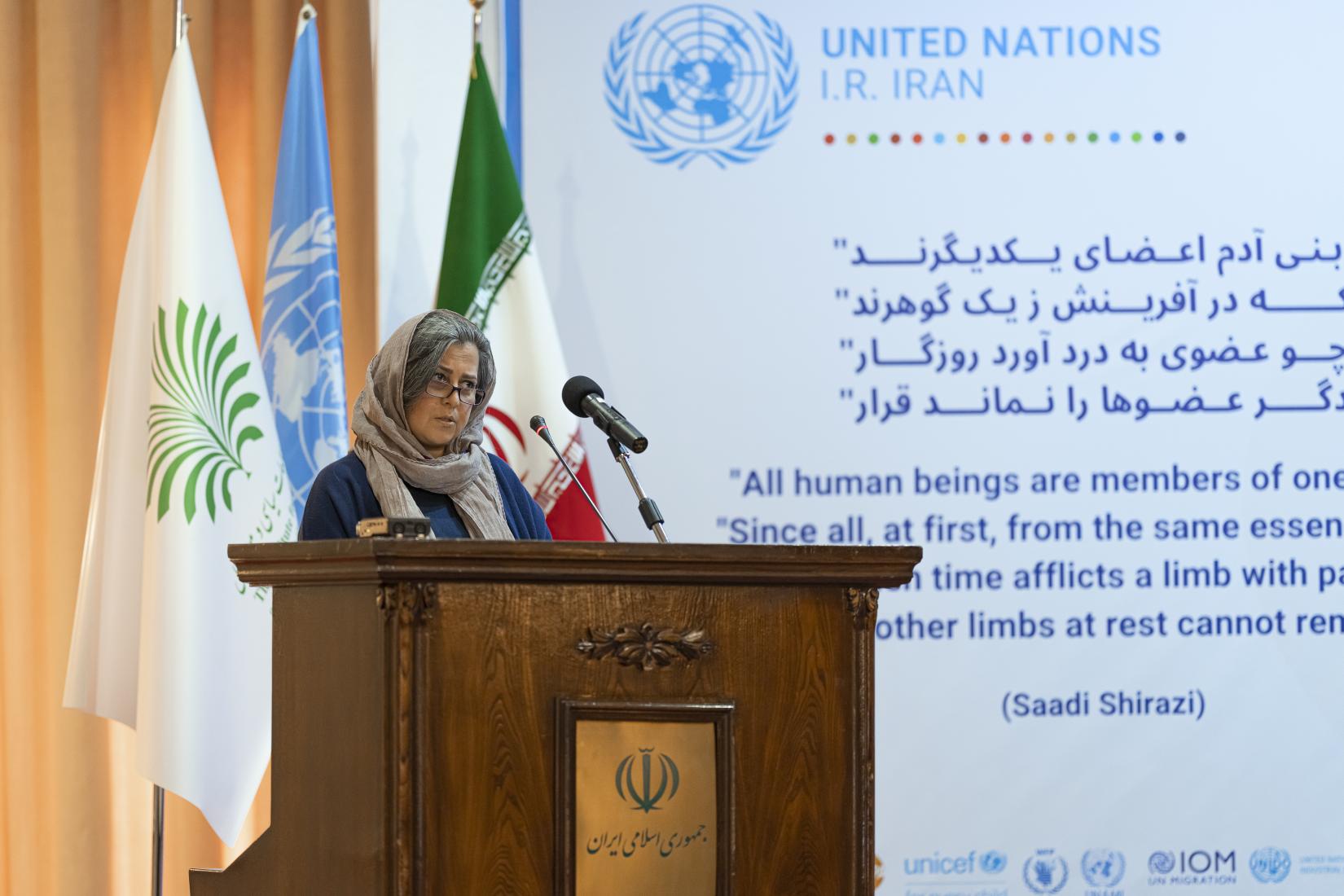 "The UN also provided food assistance to thousands of refugee families and distributed hygiene- and dignity kits – always to those who needed it most," Ms. Gerami said adding that last year the UN also covered the Universal Public Health Insurance for 120,000 refugees.
Gerami pointed out that through the UN efforts, over half a million refugee children were enrolled in national schools and we introduced "School Feeding" programmes for some of the most vulnerable of them benefitting both students and teachers.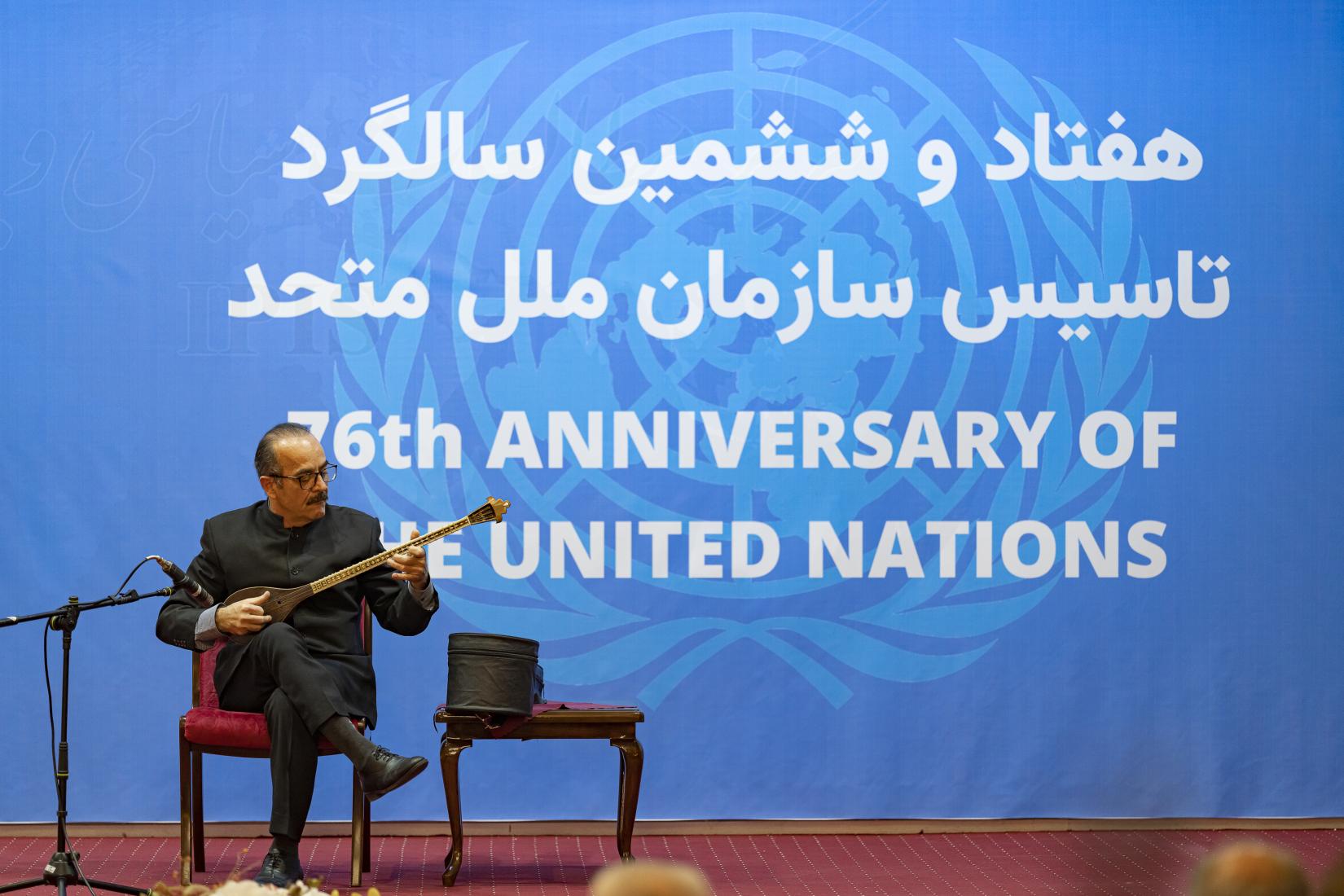 Composer and university professor and setar player Mr. Keyvan Saket had kindly agreed to perform pro bono, and he received standing ovations after playing his beautiful piece for the audience.
The programme continued by a video message from President of Iranian Association for UN Studies (IAUNS) and University of Tehran Professor Dr. Nasrin Mosaffa.
She said for the past twenty years, IAUNS been spearheading research and scientific effort in both assessing the role of the UN in international politics and critical appraisal of the relationship between Islamic Republic of Iran and the UN.
"We are of the belief that both issues require diligent review and wise assessment in an expert and scientific way. We have benefited from active participations and cooperation of both the first UN and the second UN in our activities," Dr. Mosaffa added.
She said that is the reason I am speaking to you with 20 years of experience in promoting activities to study the noble cause of United Nations from Iranian perspective, researching, training and leading awareness raising activities on the UN to provide expertise to our society in a scientific way. We believe that our aim in training next generation of researchers and experts to have a realistic assessment of global challenges while paying attention to inter-disciplinary and multidimensional nature of them alongside their history is a vital one.
Inspired by the UN charter and our national interest, Dr. Mosaffa said the Association provides a unique insight into dynamic research and training culture that creates a nexus between academia and policymakers.
"Its vital role has been recognised on international level through ECOSOC's consultative status. It is on that basis that we believe Iran-UN relationship is important both regionally and globally. Insisting on adherence to the international law, the global pandemic, and refugee crises are examples of how this relationship could benefit from input by the third UN," University of Tehran professor said.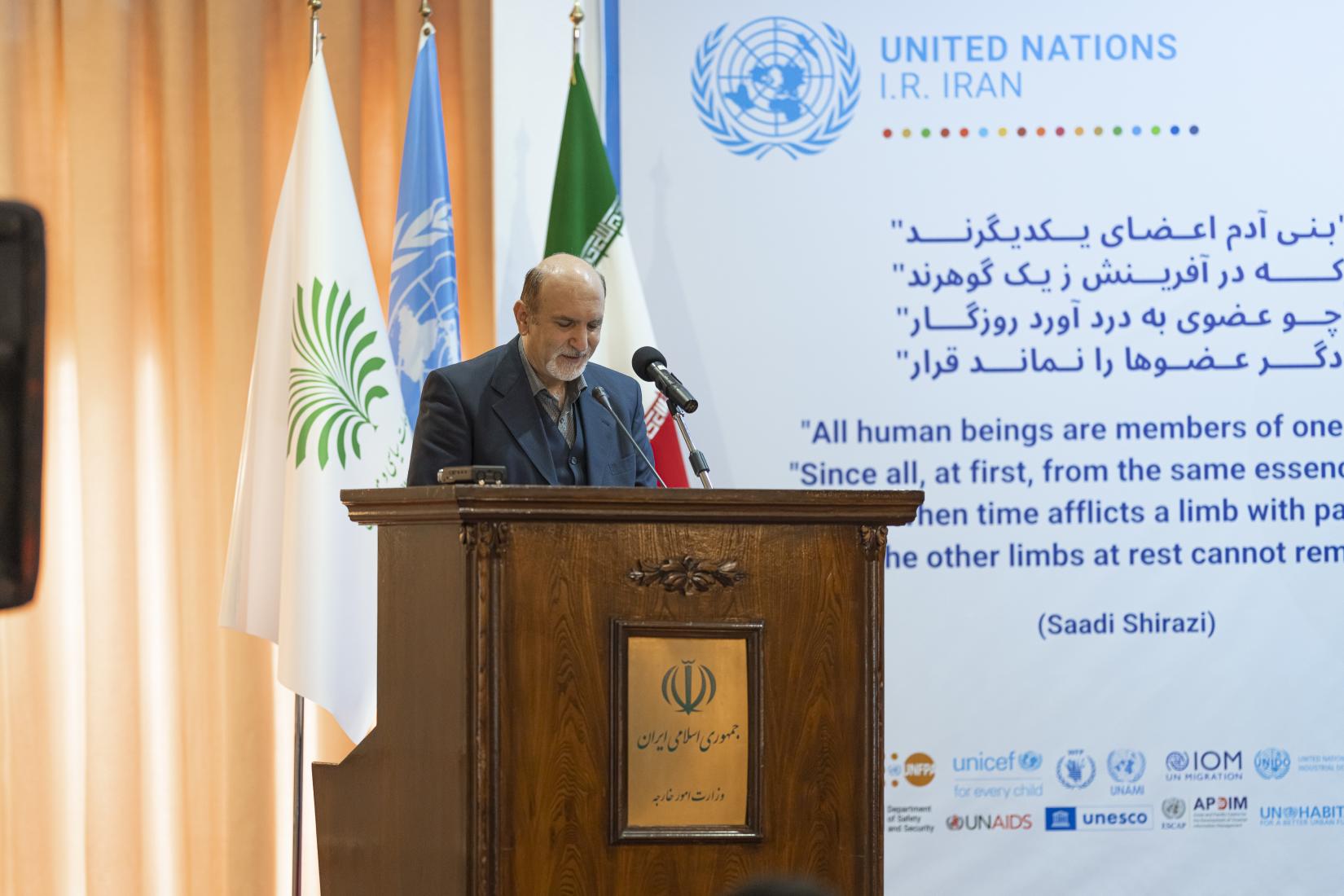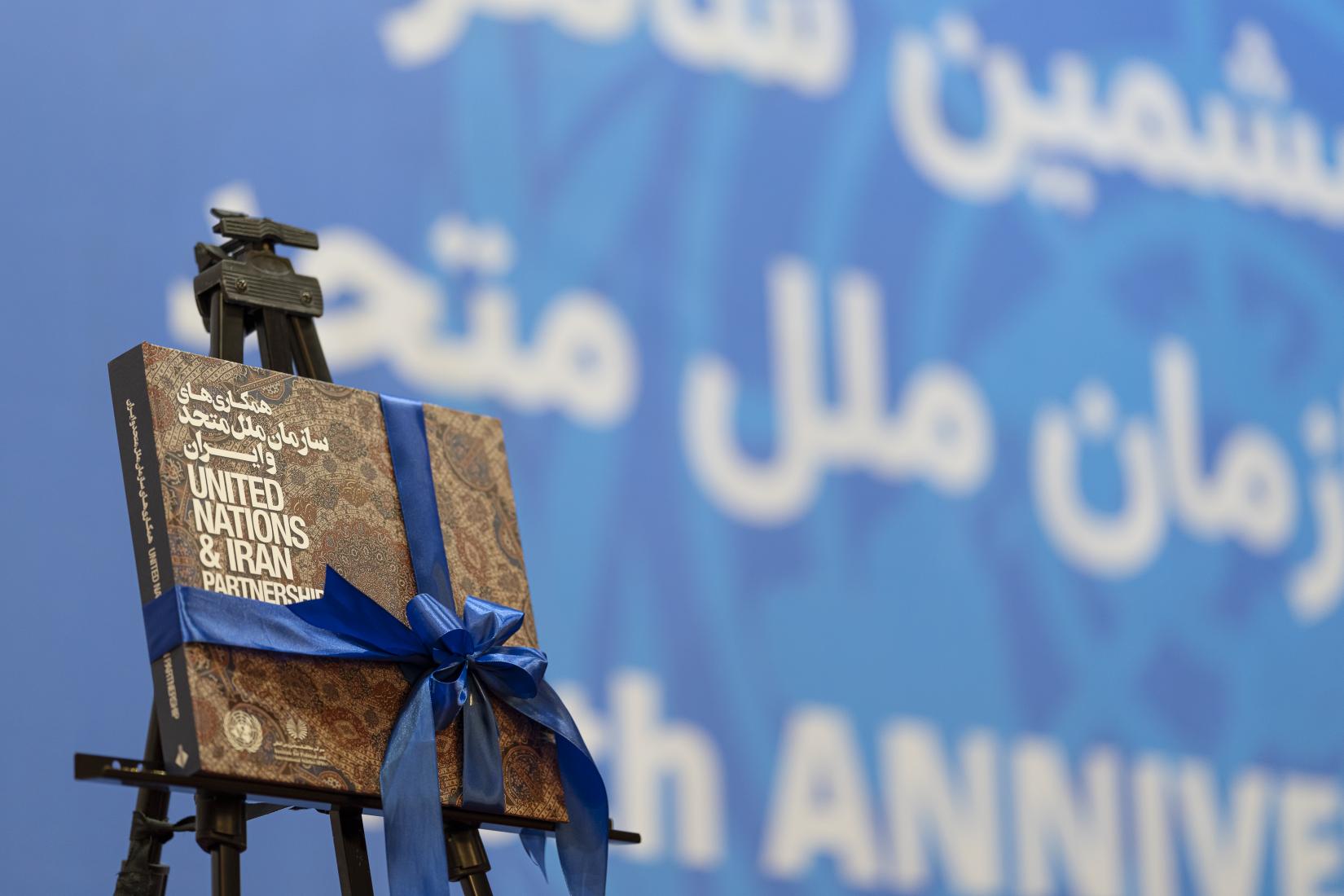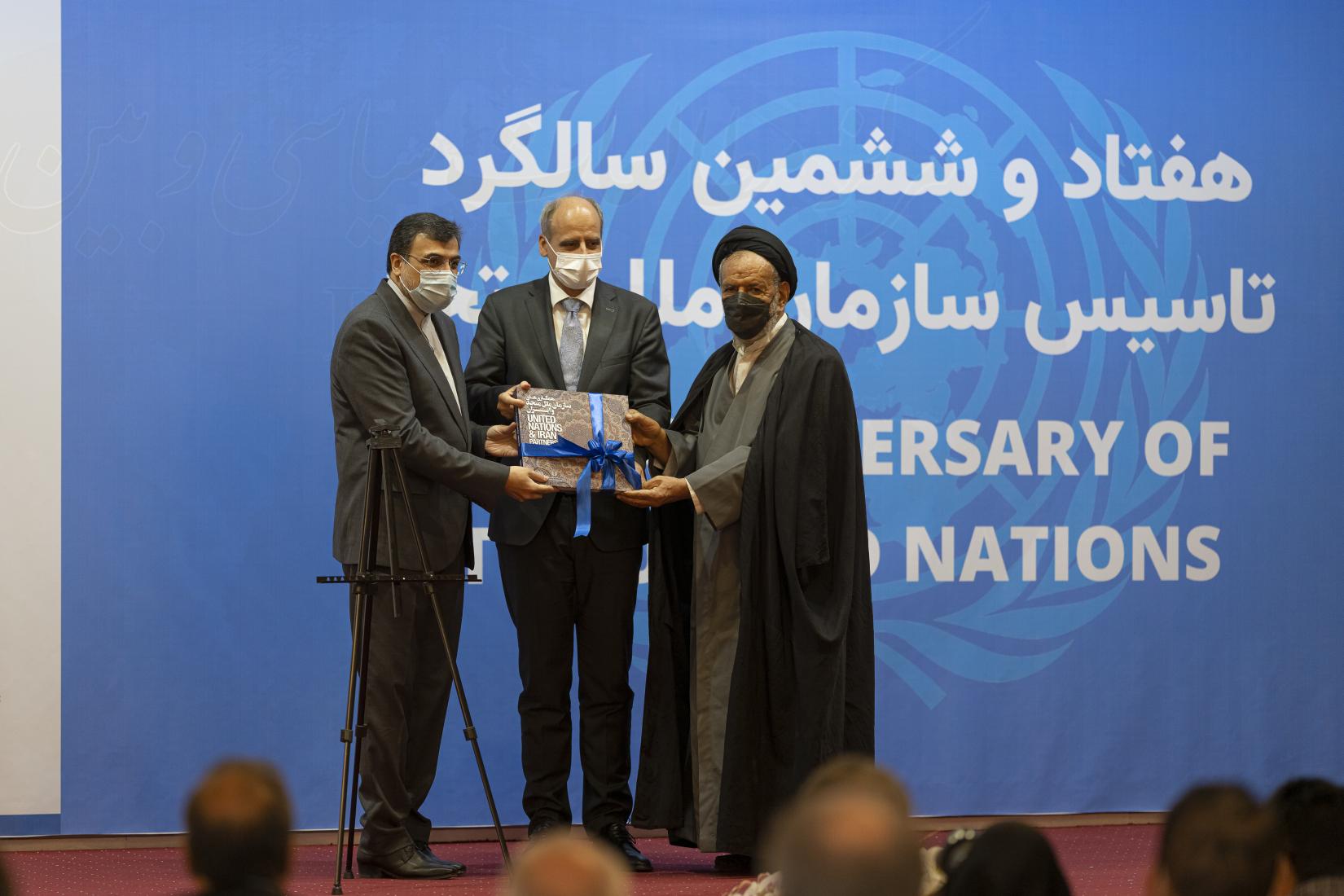 UN Information Centre National Information Officer Mohammad Rajai-Moghadam briefed the participants on the preparation process of "United Nations and Iran Partnership" book.
Then, the UN Resident Coordinator, Stefan Priesner, Deputy Foreign Minister Sheykh al-Islami and Managing Director of Etella'at Institute Hojatoleslam Seyyed Mahmood Doaei launched "United Nations and Iran Partnership" bilingual book.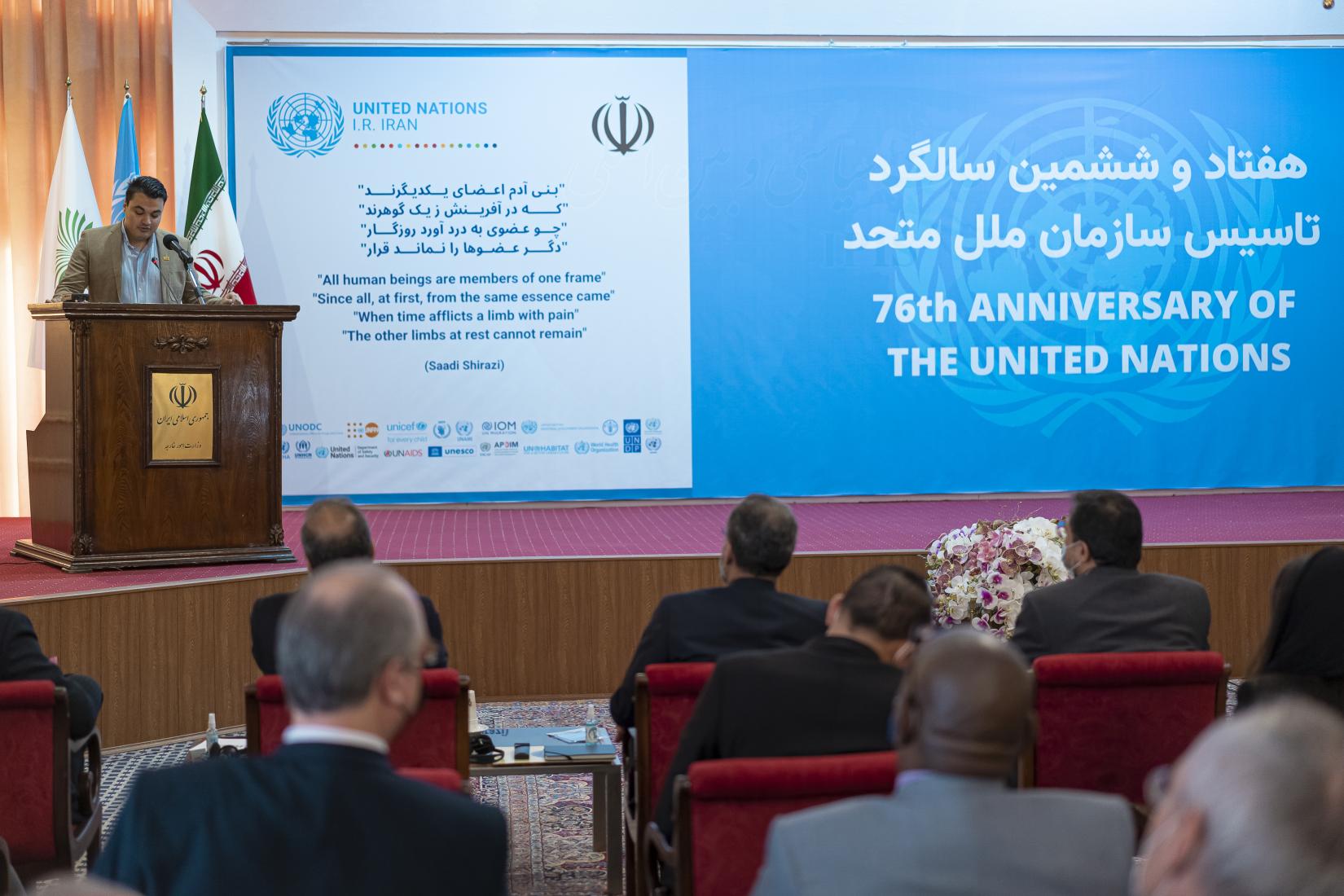 At the end of the ceremony, Mr. Nima Ilat from United Nations Population Fund (UNFPA) who represented generation of young UN staff members in his statement said I can fully guarantee that my generation is committed to keep the world and all its beauties for the future; we will all thank you for doing the same!
Written by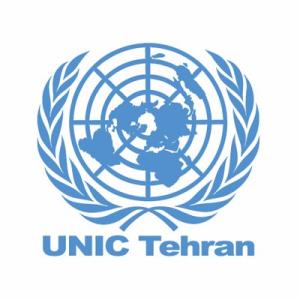 United Nations Information Centre
UNIC
UN entities involved in this initiative