Story
Boosting water productivity and improving water efficiency in Qazvin Irrigation Network in Iran despite the COVID-19 pandemic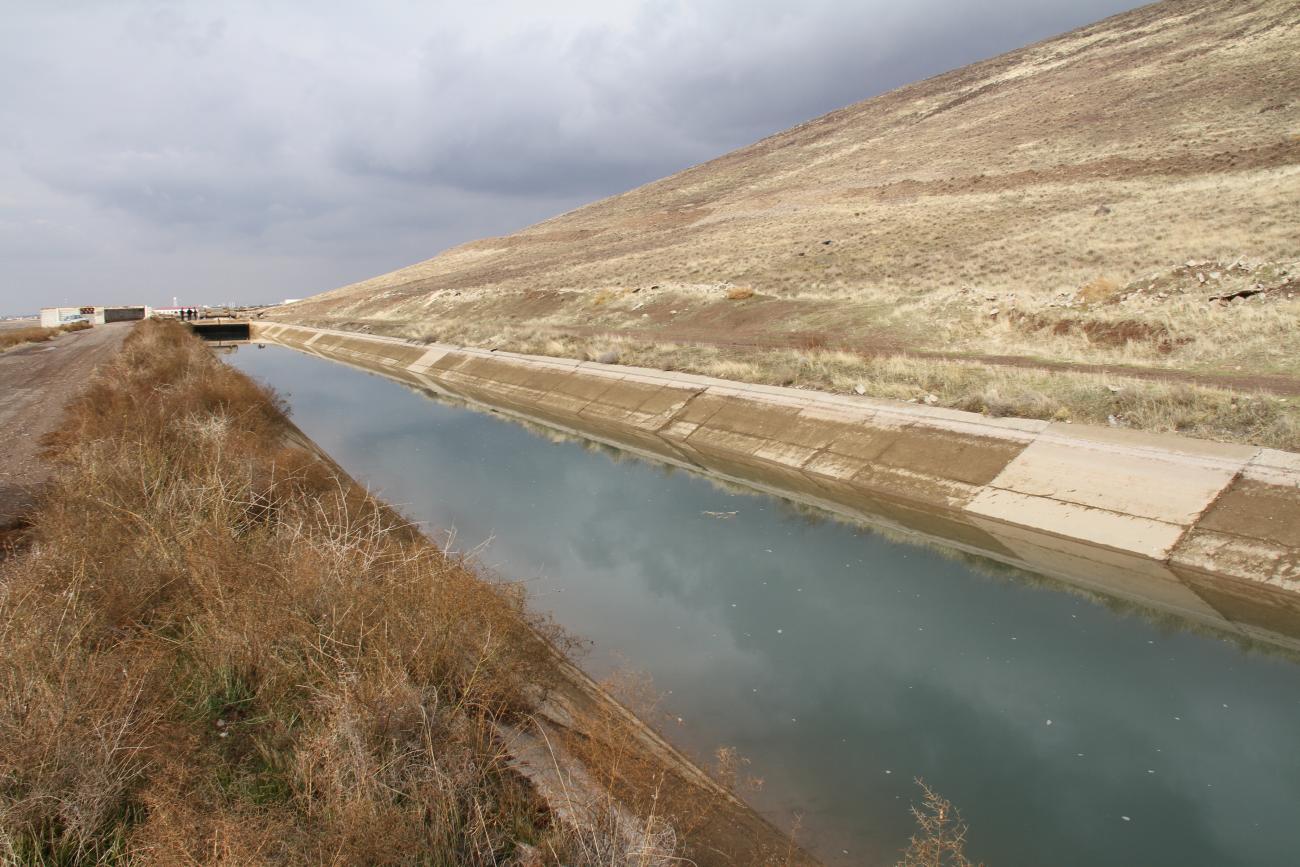 FAO and Iran's ministries of Agriculture Jahad and Energy and local research institutions, keeps up with its commitment to implement activities in Qazvin.
Tehran – Amid more than a year-long COVID-19 pandemic, the Food and Agriculture Organization of the United Nations (FAO), in collaboration with Iran's ministries of Agriculture Jahad and Energy and local research institutions, keeps up with its commitment to implement activities envisaged to further improve agricultural water efficiency, productivity and sustainability in Qazvin plain.
Thanks to the financial support provided by the Swedish International Development Cooperation Agency (SIDA) to a regional project implemented by FAO in eight countries in the NENA region, including Iran, the Organization moves forward with its running operations focused on enhancing water accounting and water productivity in Qazvin Irrigation Network (QIN) over the last 12 months. To mention a few, these undertakings cover a wide range of domains such as crop mapping, irrigation water resource mapping, water productivity mapping, actual evapotranspiration (ETa), water loss and crop yield measurement, farm households survey, and farmer field schools establishment. 
Contributing to the water accounting component of the project and based on a calibrated methodology and three rounds of data collections, FAO supported a local leading academic institution, Imam Khomeini International University of Qazvin (IKIU-Qazvin), to complete the development of two seasonal crops maps for QIN with the highest possible accuracy. The prepared crop maps enable the authorities to determine the area allocated to each crop type and obtain a more accurate assessment of agricultural water resources and water consumptions in the area. 
To facilitate the implementation of an integrated and sustainable management system in QIN, FAO joined hands with IKIU-Qazvin to start identifying the local agricultural water resources, their share in the irrigation of farmlands and delivery points in QIN. As part of this activity, IKIU-Qazvin will collects, modifies and updates the existing maps and data regarding boundaries of farmlands, cadastral maps, cultivation plans, coordination of water delivery points, wells, and other water sources, including perennial and seasonal rivers and non-treated wastewater, and the proportion of these sources in irrigation of farmlands at different times of the year using geospatial data, the Google Earth images, and high-resolution satellite images of Sentinel 2. 
Progressing forward with water accounting in QIN and pertinent information gaps, IKIU-Qazvin supported by FAO initiated the work on providing calibrated spatially distributed ETa maps for the area, based on the collected topographic, meteorological, soil and other geospatial data, satellite images (especially Sentinel and Landsat images) and the available field-data. 
The developed crops and ETa maps would be used to estimate crop water productivity and yield from the satellite in the study area. Building on the already developed assessment tools, remote sensing technologies, accessible database and complementary field questionnaires, the Organization supports the IKIU-Qazvin to produce and validate vegetation indices required for a calibrated AquaCrop model and develop and evaluate geospatial crop yield estimations. ETa, crops and yield maps then will be utilised by the project to produce water productivity maps of the selected crops (wheat, barley and maize) in QIN. 
To further improve water productivity in Qazvin plain and support adopting effective options by Iranian authorities to rationalize water allocation and enhance water use efficiency in the agriculture sector, FAO linked the arms with Payame Noor University of Qazvin to kick off conducting a farm-household survey of agricultural operators in QIN to fill in the existing information gaps and to give a comprehensive view of the farming practices in the area. Formulated on the questionnaire developed by FAO and the University of Cordoba, the survey generates reliable data and analysis on performance indicators of crop productivity across different farm types, cropping patterns, management techniques, water productivity under different water management systems, economic returns to current farming practices, water economic productivity for different crop/management systems, and farm household socio-economic conditions. 
Getting down to the challenge of low water productivity practices in QIN, FAO, in close partnership with the Qazvin Provincial Office of the Agricultural Research, Education and Extension Organization, began the establishment of three Farmer Field Schools (FFS) in the area to support transferring the requisite technical knowledge and skills to the farmers to identify and handle challenges of low water productivity, to understand and monitor local water resources, and to decide as a group on the optimal cropping pattern. 
Approaching the Iranian New Year, Nowruz, and a new wave of hopes raised by the latest achievements in fighting against the COVID-19 pandemic and further expected easing of restrictions and lockdowns, the Organization persists in its commitments to support the country to develop, implement and mainstream measures and practices aimed at improved Iranian agro-rural resilience and capacities.
Being the lead UN agency in promoting sustainable climate-smart agriculture development across the world, FAO lends its expertise to member countries to further facilitate and mainstream a more efficient, productive, equitable and environmentally friendly use of water in agriculture.
UN entities involved in this initiative
FAO
Food and Agriculture Organization of the United Nations