UNAIDS supports the national response to COVID-19 in the context of HIV
UNAIDS is supporting People Living with HIV, Key Populations and HIV NGOs through Ministry of Health and Medical Education and Welfare Organization.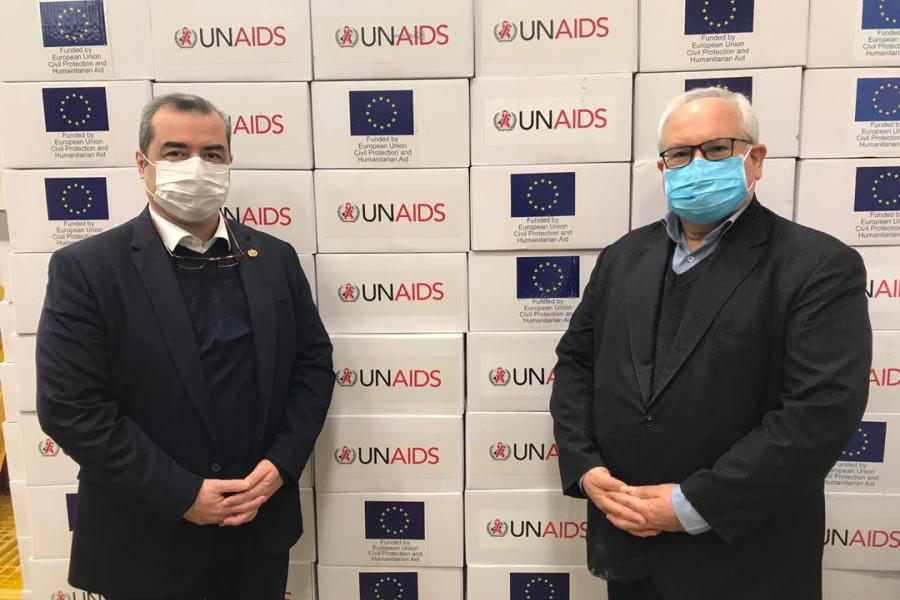 Photo | Mr Saeid Honaramooz
In support of the national response to the COVID-19 pandemic and on the request of the government of Iran to ensure no one is left behind, the Joint United Nations Programme on HIV/AIDS (UNAIDS) in Islamic Republic of Iran, is supporting People Living with HIV and most at-risk populations with 95 MT Personal Protective Equipment (PPE) to help addressing COVID-19 prevention needs. The PPEs items are provided through generous contribution of European Civil Protection and Humanitarian Aid Operations (ECHO) Fund.
In Jan 2021, the first part of PPEs items including 878,580 pcs of 3 layers surgical masks, 13,940 bottles of 500 ml hand sanitizers, 1,580 bottles of 500 ml surface sanitizers and 23,800 boxes of powder-free latex gloves (50 pcs of gloves/box) delivered to Welfare Organization to be distributed among beneficiaries through collaborating HIV NGOs.
UN entities involved in this initiative
UNAIDS
Joint United Nations Programme on HIV/AIDS